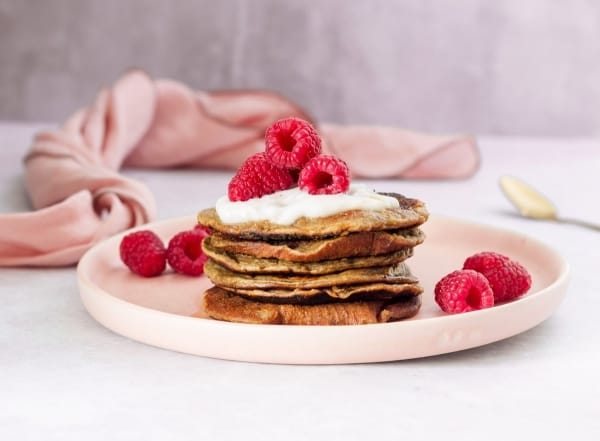 1

small banana

1

tbsp

almond butter

1

tbsp

maple syrup

1

tsp

ground flaxseed

1

tsp

vanilla extract

1

tsp

lemon juice

3/4

cup oats

1/2

cup almond milk

1/2

tsp

bicarbonate of soda

1

tsp

Coconut Oil
1

tbsp

maple syrup

1

tbsp

coconut milk yoghurt

1/2

cup raspberries
1

small banana

1

tbsp

almond butter

1

tbsp

maple syrup

1

tsp

ground flaxseed

1

tsp

vanilla extract

1

tsp

lemon juice

3/4

cup oats

1/2

cup almond milk

1/2

tsp

bicarbonate of soda

1

tsp

Coconut Oil

1

tbsp

maple syrup

1

tbsp

coconut milk yoghurt

1/2

cup raspberries
Add the oats, banana, flaxseed and almond butter to a food processor. Blend well to combine.

Add the almond milk, maple syrup, lemon juice and bicarbonate of soda. Blend well to form a thick, smooth batter.

Lightly grease a non-stick pan with a little coconut oil over medium heat.

Add a ¼ cup of batter at a time to the pan, forming a circular pancake. You should be able to fit 2 pancakes in the pan at a time. Cook for 2 minutes each side or until golden brown all over and cooked through.

Repeat with the remaining batter – you should get 6 pancakes from the mix.

Stack three pancakes per person, drizzle with maple syrup and top with coconut yoghurt and fresh raspberries to serve.
CNM recommends the use of organic ingredients.
Recipe from the CNM Natural Chef Kitchen
Are you interested in healthy cooking? Do you want to make a career out of something you love?
Contact us on 01 878 8060 or e-mail dublininfo@naturopathy.ie to discuss becoming a CNM Natural Chef.