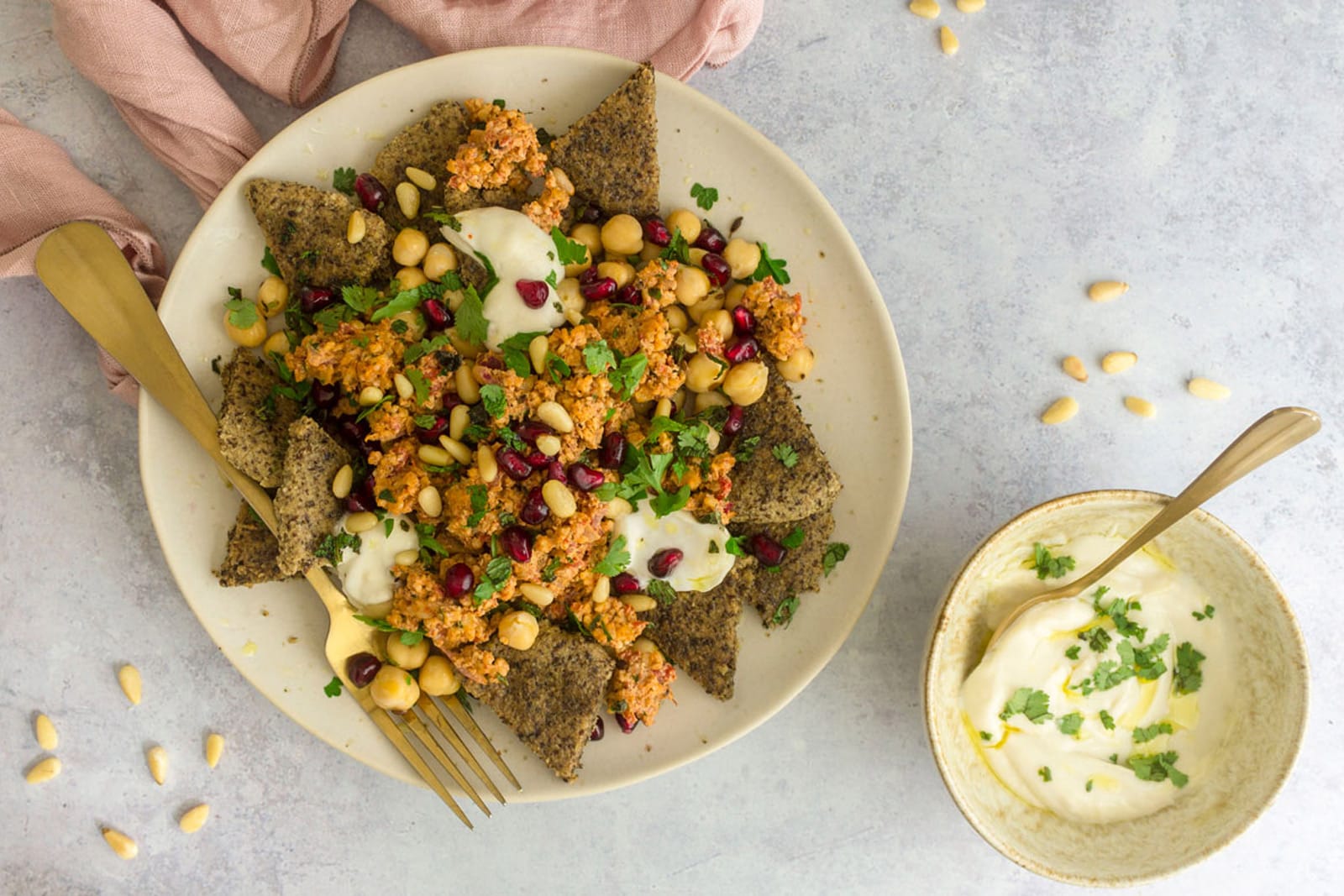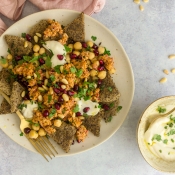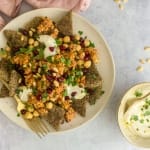 Print Recipe
Walnut Meat Fatteh
A vegan take on a traditional Middle Eastern Fatteh, this delicious dish has a ground almond and flax flatbread base, loaded with a raw, spiced walnut 'mince', tahini yoghurt, tender chickpeas and sweet pomegranate seeds. The Fatteh is topped with aromatic fresh herbs and crunchy toasted pine nuts to serve. It makes for a great summer lunch and is perfect for sharing
Ingredients
For the pitta
5.5

tbsp

warm filtered water

2

tbsp

ground flax seed

2

tsp

olive oil

2

tsp

lemon juice

1

tsp

tahini

3/4

tsp

bicarbonate of soda

2/3

cup

ground almonds

A generous pinch of salt and black pepper to taste
For the walnut mince
1

tbsp

fresh parsley

finely chopped

1

roasted jarred red bell pepper

1

small garlic clove

1

tbsp

diced red onion

1

tsp

ground coriander

1/2

tsp

ground cumin

1/2

cup

walnuts

1/4

tsp

cinnamon

A pinch of salt and pepper to taste
For the yoghurt
2

tbsp

coconut milk yoghurt

2

tsp

lemon juice

1

tsp

tahini

1

small garlic clove

minced

1/2

tbsp

olive oil

A pinch of sea salt
For the chickpeas
1

tsp

cumin seeds

1/2

tbsp

chickpeas

drained and rinsed

1/2

tbsp

olive oil

A pinch of salt to taste
To Serve
1

tbsp

pomegranate seeds

1

tbsp

pine nuts

1/2

tbsp

fresh chopped coriander

1/2

tbsp

fresh chopped mint

1/2

tbsp

fresh chopped parsley
Instructions
Preheat the oven to 180 degrees Celsius, 160 for fan assisted and line a shallow oven tray with baking paper.

To prepare the pitta breads, add the ground almonds, flax, bicarbonate of soda, salt and pepper to a mixing bowl. Stir well to combine.

Add four tablespoons of warm water, the oil, Tahini and lemon juice. Stir well to combine until you have a thick paste.

Add the remaining water and stir until you have a thick batter.

Spoon half the batter onto the lined baking tray into an oval pitta shape about 5mm thick.

Repeat with the remaining batter so you have two breads.

Transfer to the oven to bake for 15 minutes, flip and bake for a further 15-20 minutes until golden brown all over. Set aside to cool.

Whilst the flatbreads are cooking you can prepare the rest of the Fatteh. Add the rinsed chickpeas to a small pan and just cover with water. Simmer the chickpeas for five minutes or so until hot through.

Whilst the chickpeas are cooking, add the cumin to a dry frying pan over a low heat and toast gently for a minute until fragrant.

Drain the chickpeas and sprinkle over the toasted cumin and a pinch of salt. Drizzle with the oil and stir to combine. Add the pine nuts to the dry frying pan also over a low/medium heat and toast for a minute or two until lightly golden all over.

To prepare the walnut 'mince' add all the ingredients to a food processor and pulse to combine until you have a chunky crumb consistency.

Add all the yoghurt ingredients to a small mixing bowl and whisk together until smooth.

To assemble the Fatteh, roughly chop the flatbreads into triangles and arrange across a large serving platter.

Scatter over the seasoned chickpeas and top with the walnut mince.

Add generous dollops of the tahini yoghurt.

Scatter with the pomegranate seeds, fresh chopped herbs and toasted pine nuts to serve.
Notes
Keep the tartlets chilled before serving.